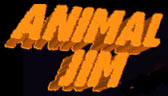 Drag Racing Career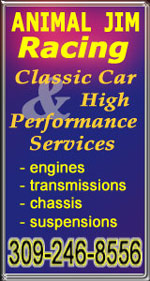 CLICK HERE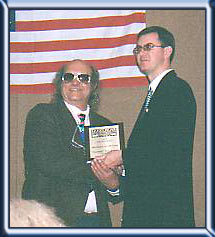 At the 2001 UDRA (United Drag Racers Association) banquet "Animal Jim" Feurer took top honors as the UDRA Pro Mod Champion. But that wasn't all for the Animal! He was also given the awards for Driver of the Year, the Mechanic of the Year, and he was also presented with the UDRA Sportsmanship Award (left) by Vice-President Chris McMahan. (Yes, this is the same Chris McMahan from the '87 win at WIR photo! Chris is now the Director of Competition at Route 66 Raceway in Joliet, Illinois, he's a member of the NHRA Announcer's Guild, and he drives a Pro Stock car.)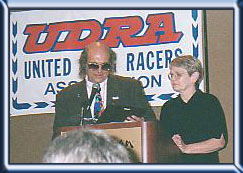 The accolades didn't end there, however, as Animal Jim and his wife Linda came up to the podium for the fourth time to be given the prestigious President's Award for Career Achievement.

It truly has been quite an amazing career, and what a great ending!
... But is it???





2002



In 2002, even though Animal Jim was on the exhibition trail, the UDRA still honored him with his picture on the cover of their 2002 programs.

(click thumbnail for larger image)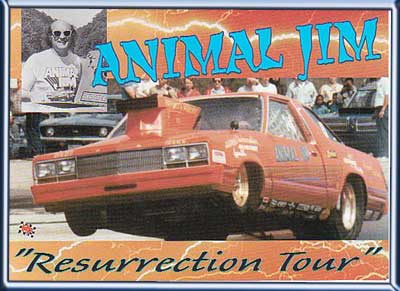 Jim had brought "Zeke" out of retirement in 2002 and kicked off the Resurrection Tour of the big Merc Zephyr. This beautiful poster card was a contingency award sponsored by HP Racing Cards for Animal's 2001 Championship. He plans to continue booking the Zephyr for exhibitions indefinitely.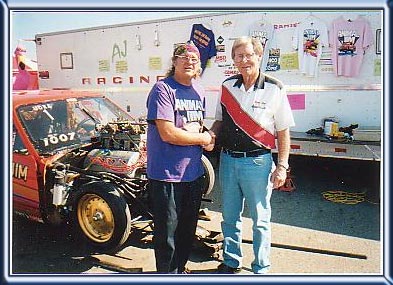 Animal Jim and "Dyno Don" Nicholson appeared at Crite's Ford Expo on Labor Day 2002.
---
2003
2003 NHRA Nationals at Route 66 in Joliet, Illinois

Animal Jim and Wally Bell were on hand to
provide the color commentary for the AMS Pro Mods.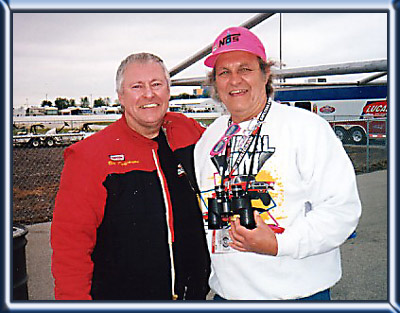 Animal Jim interviewed one of his best friends and former arch rival "Wild Bill" Kuhlmann. Bill was responsible for starting the AMS Series to race select NHRA national events and procured AMS as the sponsor for that series.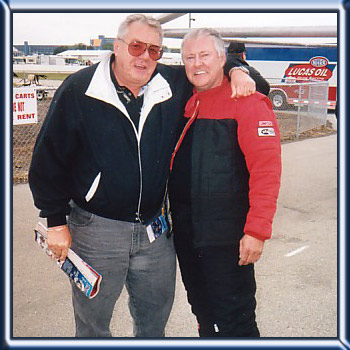 Here are Animal Jim's two best friends in racing and life. They were also his arch rivals during his torrid racing career - Wally Bell and AMS Pro Mod star "Wild Bill" Kuhlmann.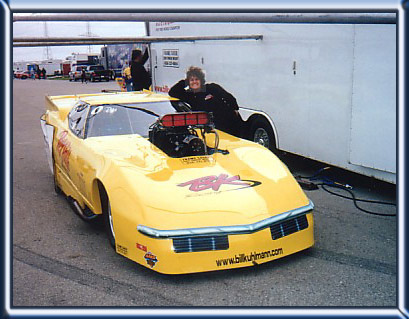 Above is "Wild Bill" Kuhlmann's crew member - Little Vickie. She's a real dynamo and she maintains the car by herself, including pulling the pan and checking the bearing between rounds.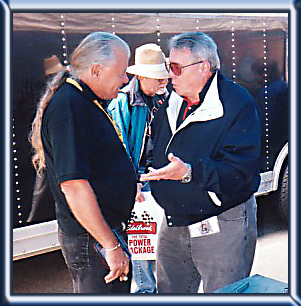 Wally Bell interviewed AMS Pro Mod star Johnny Rocca to gather material to discuss with Animal Jim and Bob Frye later on during color commentary at the Route 66 NHRA Nationals. Earlier in 2003, Animal Jim and Johnny did the color commentary for the AMS Pro Mods at the NHRA Gator Nationals.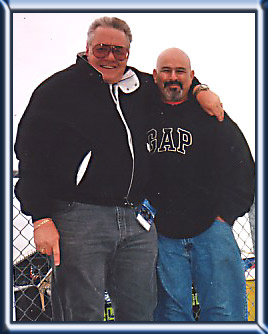 Wally Bell ran into our old friend and rival Manny DeJesus. Manny had an awesome '69 Nova-bodied Pro Mod car called "The Witch Doctor" in the early 1990s. Manny and Animal Jim had been in many super exciting finals in the USSC circuit during that period, both winning several races. In 1992, Fennell Autobody, which was once owned by Animal Jim, painted one of Manny's Haas race cars. At this NHRA event, Manny was entered in the new Sport Compact class with a new Haas Cougar.






2004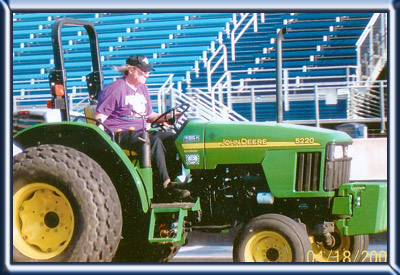 In 2004, Animal Jim became a tech official at Route 66 Raceway in Joliet, IL. Some times he also helps with other functions like operating the tire dragger.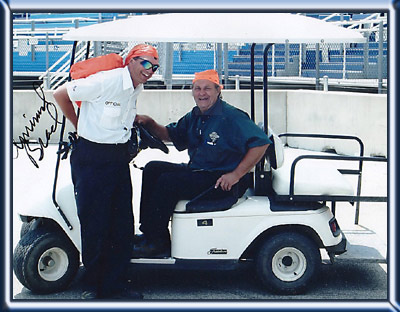 Route 66 Raceway's NHRA starter Brad Bueschel and Tech Official Animal Jim have a light moment while Brad tries to emulate Animal's dew rag.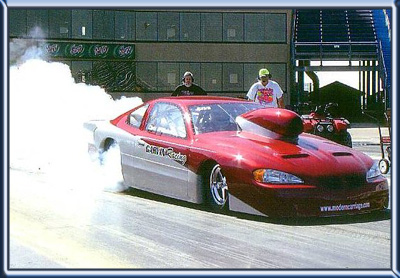 Chris McMahan, the Route 66 Operations Director, was making his Pro Stock license runs driving Dave Garvin's Pontiac. Later in August 2004, Chris and our "Dream Team Crew" went to Maple Grove, PA for the Edelbrock NMCA Nationals and Chris qualified in Pro Street. Yes - that is me, AJ, as crewman behind Chris.





As far as getting back into present day Pro Mod?
Well, ya never know ...
The right deal just might be a phone call away.
"The fat lady hasn't sung yet!" - A.J.