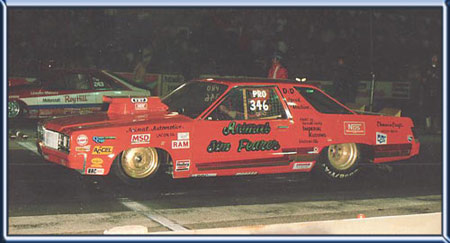 The big burn-down at the AHRA Winternats at Tucson in 1983
"Roy Hill (far lane) would not stage and neither would I. Twice I pulled up to light the pre-stage bulb and then he would back away. The first time, his crew took the deck lid off and adjusted the shocks. The second time he backed up, they adjusted the wheelie bars, and then he went back into water and did another burnout! ... and by God, so did I! And we started our staging routine all over again. By this time, the frustrated starter threw down his activator and threw up his hands. All I would've had to do was light one bulb while they worked on their car and they would have been disqualified, but I wanted to beat Roy straight up. And I did!!!" - A.J.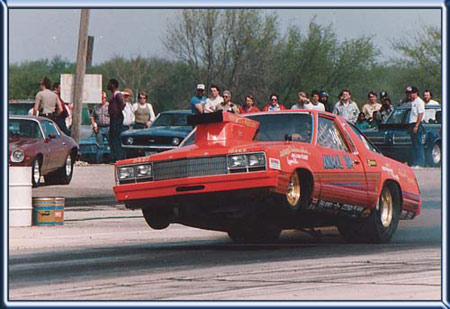 The "Mammoth Mercury" Zephyr trademark shot in 1986
at Byron Dragway with the IHRA Mountain Motor
In 1984, as the AHRA faded, Animal Jim retrofit "Zeke" with a new, legal IHRA 672" Mountain Motor built by Jon Kaase, which was the biggest engine in Pro Stock at the time. This photo (which has become the Zephyr's trademark) was taken at Byron Dragway in Byron, Illinois on August 10th, 1986. Animal Jim and Zeke won the biggest Pro Stock meet that had ever assembled when he went up against Bob Olson's Pontiac in the final. Animal Jim won several Pro Stock events and UDRA Nationals from 1984 to 1986 with the 672.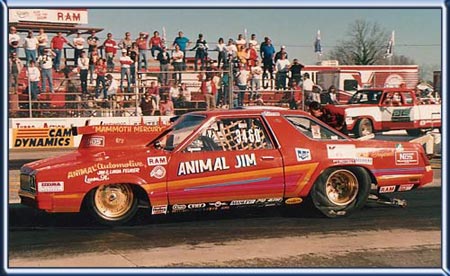 Back on the bottle!

In 1987, inspired by Bill Kuhlmann's 200 mph record at Darlington, Animal put NOS on his 672" Ford hemi. Animal Jim and Bill Kuhlmann were now slated as Outlaw Pro Stocks and went on a record setting rampage from 1987 to 1989. Pro Mod was just being conceived.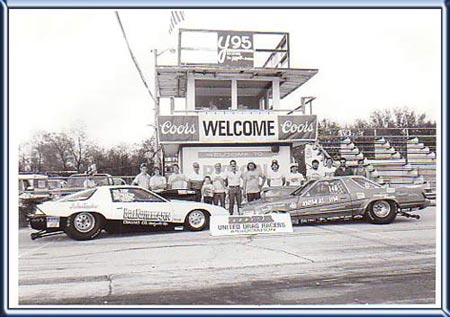 Animal Jim and Bill Kuhlmann in the winner's circle at Byron Dragway in May of 1987. This was Animal's first outing with NOS on the 672.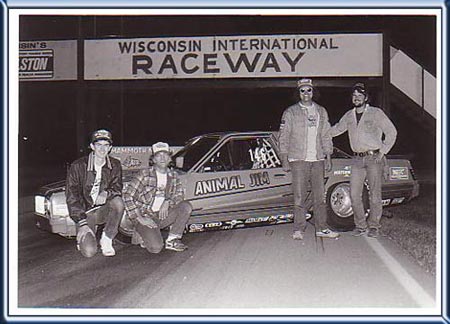 In the winner's circle at Wisconsin International Raceway in Kaukauna, Wisconsin in June of 1987. Standing next to Animal on the far right is crew member Dan Smith. Kneeling at the far left is a very young Chris McMahan, and next to him is crew chief Al Schmitt.

Jim recalled, "Ironically, I ran Jim Ehlen in the final. He had Lee Hunter's Zephyr fitted with an engine just like mine and with NOS, as well. Later, I bought that same engine from Jim. It was a 666 cid, so I named it 'Damien'. The 672 was called the 'Monolith'."