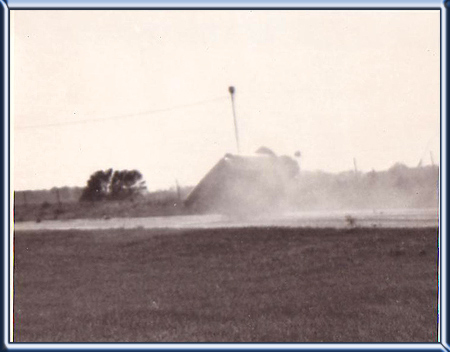 Ironically, just one week after I had beaten Jerry Haas in an exciting Pro Stock final in 1980, I was racing him again in Humboldt, Iowa when severe tire shake bent the rear sway bar and I crashed.




Gary Duckworth(above left) another Pro Stock racer, checks out the damages.

At that same event, fellow racers Ray Aklin and Rod Urish from Lawrence, Kansas had blown their engine, but all was not lost ...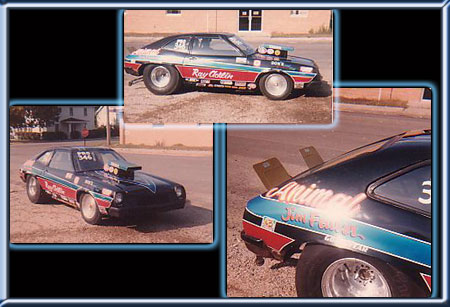 While Zeke was being repaired, I teamed up with Ray and Rod and drove their Pinto We ran my Ford Cleveland engines in the car and I drove. Up to this point, they had never qualified at an AHRA race. We went to AHRA Summer Nationals in Kansas City and put the "Little Black Beast" right in the show. Ray and Rod were thrilled! Along with several more AHRA National events, we did some match racing with the Mid-America Circuit Pro Stock events of which Rod was President at that time. They were great guys and we're all great friends to this day.

In '81, Zeke was rebuilt and updated and went I back to my trademark Hugger Orange instead of black! (I had crashed a white car and then a black car, so I concluded neutral colors crashed more than orange ones.) Anyway, Zeke and I were together again.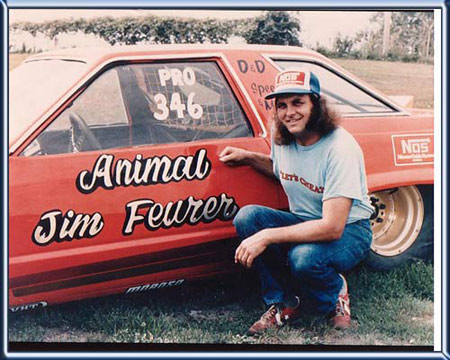 1981 - Animal Jim became the first to have an NOS-sponsored AHRA Pro Stock



AHRA change rules in 1981 allowing small block Pro Stocks to run nitrous at more weight. The big blocks did not have that option. This period, from 1981 to '83, was the true beginning of the "Nitrous Wars" (see www.competitionplus.com - Jan 16th. 2002)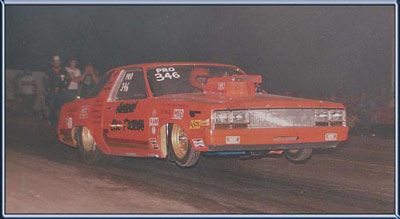 1982 AHRA Spring Nationals in Tulsa, Oklahoma
I runnered-up in the final against Chuck Aronson.
In the winner's circle at the 1982 AHRA Gateway
Nationals at St. Louis International Raceway


Pictured - crewchief Cliff Sturm, crewman Terry Shirley, and my wife Linda, myself, Jody Trover track manager. Mike Thermos of NOS my sponsor, on far right.

Bret Kepner was the announcer for this event and had been good-naturedly harassing me about being a bridesmaid at the last three AHRA races. In a pre-race interview, I predicted that I was going to win that race for Linda as an anniversary present. That weekend marked our 17th wedding anniversary. As soon as I lit up the boards with the win in the final round against Gary Duckworth, Linda told me that Bret yelled, "Happy anniversary, Linda!!!" over the P.A. That win put me in the National points lead in the AHRA Pro Stock class that season."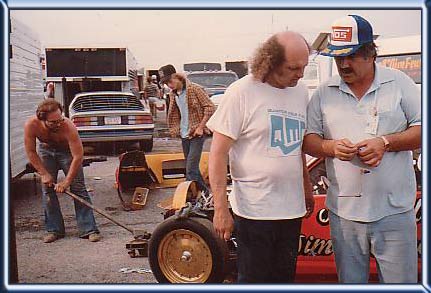 Mike Thermos and Animal Jim at the 1983 AHRA Winternats in Tucson

"We were #1 there that year and I was also was awarded the very first AHRA All-Star Award. That award was given at every AHRA national event that year. Judy Lilly got the final one." - A.J.