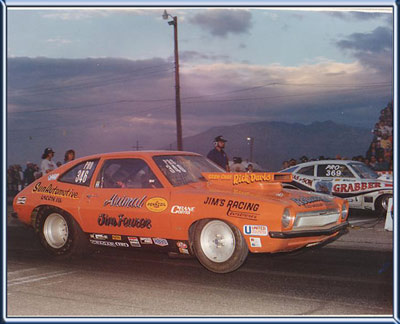 The Pinto - "My first real Pro Stock car"
1978 AHRA Winternationals in Tucson, Arizona

Jim bought this Pinto Pro Stock from Mark Seaman and Pete Rich in September of 1975. It was red, white, and blue and originally called "The Stone Pony". He repainted it Animal Orange and put "Animal Jim" in big letters on the side for the first time instead of having a car name. Seaman and Rich gave Jim a great jump start and taught him a lot about running the car and Pro Stock racing. The Pinto was a good trainer.

Mark Seaman and Pete Rich had built the Pinto cloning Gapp & Roush's Pro Stock Pinto at the time. It had a Gapp & Roush 366 Cleveland engine, 4-speed Lenco, and a Dana rear-end with 6:1 gears and it ran 9s at 150+ mph. Animal Jim ran this car in AHRA, UDRA, NHRA, IHRA, and Garlits' PRO races plus many match races from September '75 to the end of '79.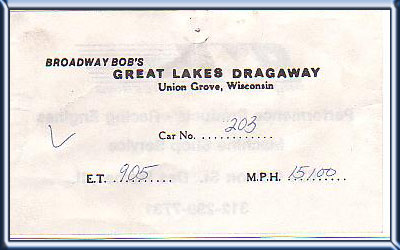 Above is an old time slip from a PRO event held at Great Lakes Dragaway in Union Grove, Wisconsin in 1977. Animal Jim qualified 7th in the 16-car Pro Stock field which also included "Dyno Don" Nicholson and "Grumpy" Jenkins.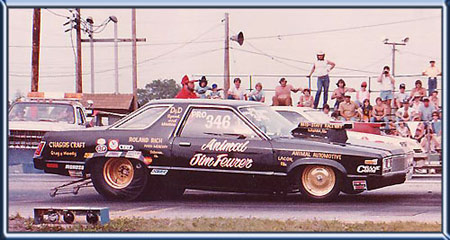 A Mercury called "Zeke"

Animal Jim's legendary Mercury Zephyr Pro Stock was built by Chassis Craft (Greg Kaplin & Woody Mays) in 1979. This was the car that made Animal Jim a major match race star. From 1979 to 1990, it ran in every sanction, circuit, and mode possible. Pictured above is Animal Jim and "Zeke" at the 1980 AHRA Nationals at St. Louis International Raceway (now Gateway Internationl Raceway) where he was the #1 qualifier. A week later he won Pro Stock at Cordova Dragway (Illinois) when he beat Jerry Haas in the final.

Originally, it was powered by small block Clevelands, but then in 1981 it became the first "legal" AHRA (American Hot Rod Association) nitrous smallblock Pro Stock which was sponsored by NOS (Nitrous Oxide Systems, Inc.).

In 1984, "Zeke" went legal IHRA Mountain Motor Pro Stock with a 672" Kaase Ford Hemi. And in 1987, Animal slapped the nitrous on the 672 and organized a band of Outlaw Pro Stocks. From AHRA and UDRA (United Drag Racers Association) stardom, it became one of the original inspirations of the Pro Modified revolution. In the span of 12 years, "Zeke", with Animal Jim driving and wrenching, achieved countless wins, awards, and records which included three World Championships in a row! - 1988, '89, & '90. Several other notable accomplishments were achieved: He led the AHRA points in '82, he won the first ever Quick 8 at the 1988 IHRA Winternationals at Darlington, was a finalist in the inaugural 1989 USSC event and later took the USSC Championship title. In 1990, "Zeke" became one of the original IHRA Pro Mods and it's best E.T. was 7.14 at 199.90 mph. Not bad for a 11-year-old car!!!