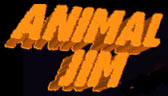 Drag Racing Career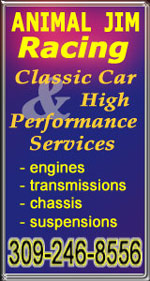 CLICK HERE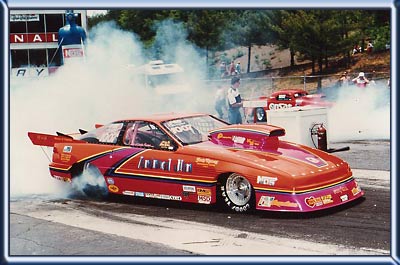 Probe into the future! Paired with Scotty Cannon
at the 1990 Bristol IHRA Spring Nats

Rick Jones built this car for Animal Jim as a sponsor/partner. It was one of Rick's first cars that he built as R.J. Race Cars, and it was one of the first cars ever built as a pure Pro Modified car. With features like front fuel cell, escape hatch, stretched wheelbase, full deck funny car wing, VFN fiberglass body (note funny car nose), etc., it was the benchmark for the 1990 IHRA inaugural Pro Mod rule book.

This car became the first carbed Ford to break 200 mph on July 4, 1990 at Norwalk, Ohio at a USSC (United States Super Circuit) event. It was also the first Ford in the 6's in September of 1990 at the IHRA U.S. Open at Darlington. Jim went on to win the USSC Championship that year. This car was featured in many magazines over the next two years.




Animal Jim in the hatch of new RJ Probe doing a magazine shoot with photographer Don Gillespie after the IHRA Spring Nationals in May of 1990. The article, entitled "The Man In A Cage", appeared in the September 1990 Super Ford Magazine. This car got umpteen features done on it!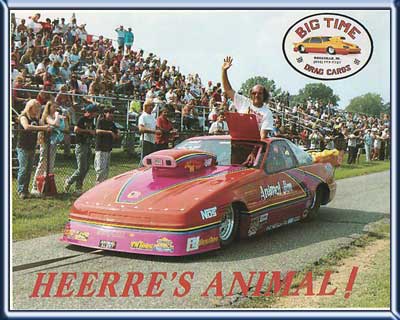 The picture on this poster was taken at the All-Ford Motorsports Nationals in 1990 at Maple Grove, PA. Animal Jim was billed with Ronnie Sox, Norm Wizner, and Wayne Torkelson and the four toured together for many of these events for several years. The media eventually did a feature on them titled "Four for Ford". Ford unfortunately missed out on a great promotional angle.

Along with countless magazine articles on Animal Jim and his "Psychotic Probe" in 1990-91, there were also many videos produced. Main Event had "Nitrous Outlaws", Drag Racing Underground did "Mod Squad-England to Englishtown", and MP Videos produced "Look Who's Laughing - Thundernationals", just to name a few.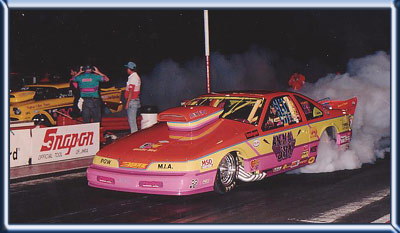 Wunderbird!
Pro Mod Thunderbird Super Coupe at 1992 IHRA Spring Nats

Towards the end of 1991, the Pro Modified class was changing fast and Animal Jim wanted a new hook to keep the match race bookings coming in. He commissioned Jerry Haas to build him a new Thunderbird Super Coupe for Pro Modified. This was to be without a doubt the best engineered and best appearing car Animal Jim had ever had. As a matter of fact, it won both those honors twice in IHRA in '92 and '93. It was powered by a 700" Kaase/Animal Jim engine that he named "Big Boy". It had 2 stages of NOS and was a solid 6.70 car by 1993. He won many races with the infamous "Wunderbird" in USSC and UDRA, and placed well in IHRA points as well. It also was dubbed and billed as the World's Quickest Ford from '92 to '96. In 1993, Animal was honored to be one of Car Craft's Pro Mod "Drivers of the Year" along with Scotty Cannon and Bill Kuhlmann.

In the photo above, Animal Jim is paired with Mike Martin who was driving the ex-Robby Vandergriff '57 Chev.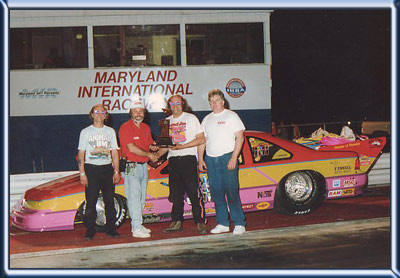 Al Schmitt, Royce Miller, Animal Jim,
Fletcher Harrison in April 1992

The WunderBird's first outing came at the inaugural United States Super Circuit (USSC) race in April, 1992 at Maryland International Raceway. The car ran great right out of the box and Animal Jim went on to win the event over Charles Carpenter and his legendary '55 Chevy. He ran a 6.83 at 205 mph to win a classic Chevy vs.Ford final round. In photo with Jim is Fletcher Harrison (left), track owner Royce Miller (to Jim's right, presenting trophy) and crew chief Al Schmitt (far right). The next day, the USSC ran at Englishtown, where Animal Jim ran three more career bests, but lost two pistons in the final. He still rang up a 6.80 at 200+ mph! Again, this car was featured frequently in print, TV and videos.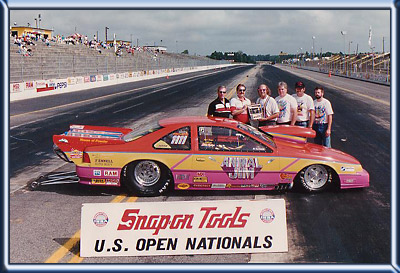 In the Winner's Circle at the 1992 IHRA U.S. Open at Darlington. Pictured (left to right) is the Snap-on rep, the IHRA Director, Animal Jim, Fletcher Harrison, Bill Staunton, and Lee Gardner.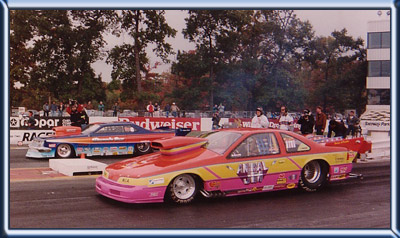 Ronnie Sox vs. Animal Jim

Animal beat Ronnie on this run at E-town USSC in 1992. Sox announced his retirement from Pro Mod that October day in '92. Ronnie changed his mind later on however, and ran that car through the end of 1994. As a matter of fact, Ronnie & Animal Jim were featured at Moroso Dragstrip's Ford event in late October of '94. And the next weekend, they were both booked at Jackson Dragway in South Carolina. In '95 Sox and Buddy Martin came back out with a new IHRA Mountain Motor T-Bird Super Coupe Pro Stock car.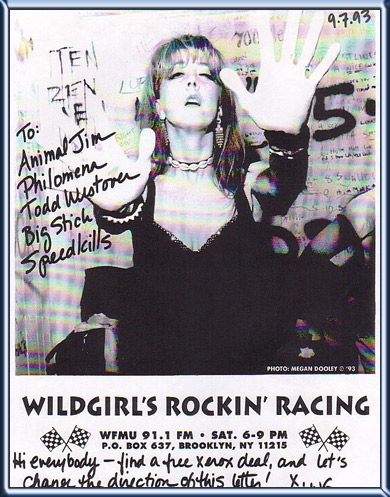 "Wild Girl" Erica Peterson had a radio program in Orange, New York in the '90's and first met Animal Jim at an April USSC race at Englishtown where he was debuting the new WunderBird in '92. Later that week, Erica interviewed him at his shop in Lacon, Illinois during a live program from her New York studio. They became great friends and she was a big part of his early '90's racing.

In the late '90's, her childhood sweetheart from her hometown in Iowa came out to New York and lured Erica home and they got married. They are still happily married and Erica now has a radio program in Iowa dedicated to saving nature. Erica and her husband will still come to see him at Cordova when he's racing there.