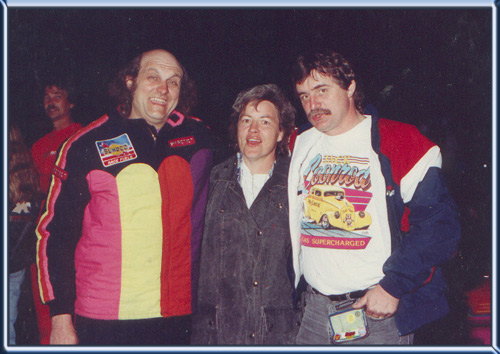 This picture was taken at the 1993 IHRA Winter Nationals at Darlington. Left to right: Animal Jim, Becky White,(owner of Quick Times Racing News) and Phil Elliot (Editor of Drag Review) at the time.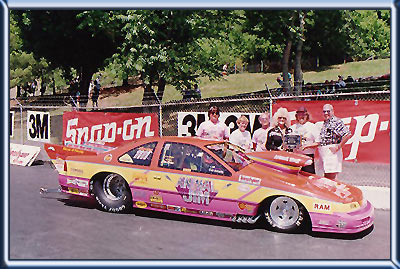 "The Two Lindas"

By now, the wins and awards were coming fast and furious. Here I am in the winner's circle with "The Two Lindas" at the 1993 IHRA Spring Nationals at Bristol. Pictured left to right Tim Smith, my wife Linda, my crew chief Al Schmitt, "Miss Hurst" Linda Vaughn, me and the 3M rep (race sponsor). The beautiful paint job on this fantastic car was actually done at Fennell Auto Body by my son-in law Doug Fennell and Joe Klien.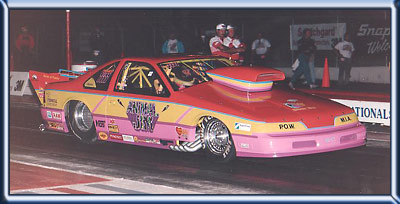 The "Wunderbird!"

This is perhaps one of the most beautiful shots of the Wunderbird ever taken. The Animal Jim logo on the sides and anti-vortex stabilizers on the wing make the exquisite paint job on the car appear translucent. Announcer Bret Kepner had always raved about how it looked under the lights!
After being named a Car Craft finalist in '93, I decided to abort all match race bookings and make a real effort to chase IHRA points in hopes of picking up a major sponsor. But like I've always said, "Never trust happiness" for on September 23, 1993 shortly after the Car Craft banquet, I had a horrific crash at the IHRA President's Cup at Maryland International Raceway. It happened during the first round of qualifying and was caused by an UNDETECTED, 10-quart oil down from Chuck Peterson's exploded engine from the run before. I went from hero to zero in a few short seconds when the car skidded out of control and landed upside-down and backwards at 200 mph with sparks flying!!!
I was very lucky to walk away unhurt, but this was a devastating blow to our team. I had just sold my home and invested every thing I had into this race program, so this was a serious financial, emotional, and career setback for us all.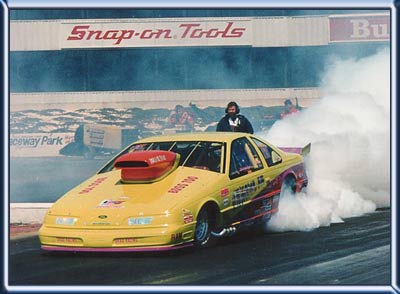 1994 Wunderbird Resurrection

It was a big disappointment that no one came around to offer their assistance after the crash, but we were determined not to let that crash get us down. Linda went to the local bank to borrow enough funds to rebuild and I took the beaten-up "Wunderbird" back to Jerry Haas to work a miracle. It took about $40K by the time they were all done. I had even sold one of my back-up engines to help fund this resurrection.
I was so far in debt at this time that I had no choice but to grab all the paid bookings I could get. My dream of running IHRA national events exclusively were dashed. Luckily, my fans still wanted more of Animal Jim Mania and paid bookings for me were readily available. My return in '94 went very well and it was probably my best year ever for match racing! After every race, Linda would go to the bank with as much match race and T-shirt money as possible in order to whittle down the now six-figure debt. Fortunately, '94 was a magical match race year. We experienced no breakage and I made every contracted run.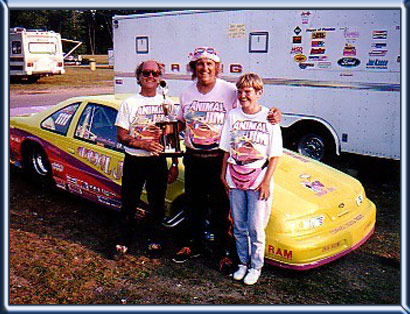 New Hampshire Dragway

This picture was taken by Al Hanna with my camera after we won Pro Modified at New Hampshire Dragway in 1994. We were on our 25th year of racing tour. This win was right on the anniversary date - July 20, 1994. Bret Kepner took us all out to eat at a Lobster House. It was a great weekend! (L to R) Crew Chief Al Schmitt, me and wife Linda Lou.




Grandson Colin and I with the trophy I won at the 1995 UDRA Summer Nationals at Cordova.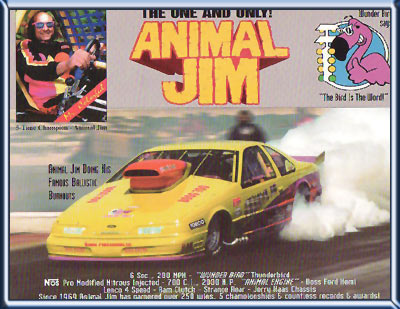 (click for larger image)

The photo was taken at Englishtown and was used for posters made by one of my product sponsors, Royal Publishing. Although I didn't have any major sponsors at this time, I still had 40 product and associate sponsors which helped the racing program out quite a bit.
In 1995 and '96, I still did bookings and I even ran with the UDRA again (with guaranteed show money) plus I ran with the USSC (United States Super Circuit) until it disbanded in '95. I still dreamed of an IHRA campaign, but it was hard to turn down booked-in performances when you need the money. Then June of '96, I was asked to do a CBS special at Englishtown. It was the "Ultra Team Challenge" - where two from each class were paired in an East vs. West match race. I was chosen as the Pro Mod from the west. For this CBS Sports one hour show special, I was named team captain and the TV crew actually came out to my home(apartment) and shop in downtown Lacon, Illinois to tape an interview. This was really a big opportunity for us! From our come-back in 1994 until now, everything had been going well and this show could potentially put me on "Broadway" and attract a major sponsor, which would give me the opportunity to run IHRA again.
But the fickle finger of fate struck again! After all the interviews, introductions, and pageantry for the Ultra Team Challenge race, I crashed the "Wunderbird" on the first pass. This time it was caused by beads of water coming up through the cracks in the asphalt from the heavy rains the day before. Of course CBS loved the crash! And once again, I walked away physically unhurt. Later, I watched the TV program and it was very impressive. I got a lot of coverage, but again, no rescue party for Animal Jim's race program was forth-coming and so after almost 3 decades of racing, we were used up. This marked the end of my full time career and I sold the Wunderbird's remains.

Later on I teamed up with Dan Barnes and drove his new Mustang Pro Mod in order to fulfill some exhibition match races he had already scheduled for 1996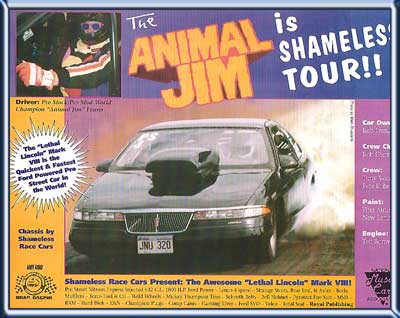 (click for large image)

The "Lethal Lincoln" Tour

I drove the infamous "Lethal Lincoln" Mark VIII for owners Bob Geituga and Bob Prange in NMCA Pro Street in 1997. Then in 1998, I got the Zephyr out of mothballs and match-raced Arnie "Farmer" Beswick. The next year, I intended to do some nostalgia bookings with the Zephyr, but decided instead to race a contemporary Pro Mod once again; even if it was just on a limited basis. In the meantime, I reopened my shop, "Animal Jim Racing & Classic Car Service", which catered to hotrod, racing, and classic car enthusiasts.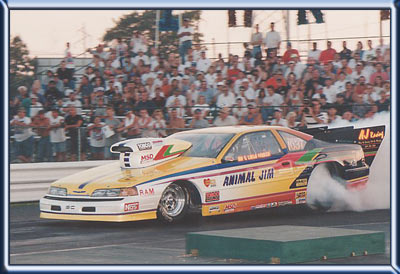 The "Ballistic Bird"

I decided to race on a limited basis with a used chassis. I bought this Tim McAmis-built T-bird from Roy Wasco in December of 1999 and dropped in my 700cid Ford Hemi Big Boy Pro Mod engine. My goal was to race just a few UDRA events and do some select exhibition appearances in order to spend a little more time with my family and run my business. My goals were to race a contemporary Pro Mod into the 21st century, touch 6 decades of racing, and race past my 60th birthday. I had also hoped for another UDRA championship, and then after 2001, I would hopefully sell the "Ballistic Bird" and get "Zeke", my Merc Zephyr, back out for some Nostalgia Exhibitions. I fulfilled all the above including selling the Bird. (see FOR SALE)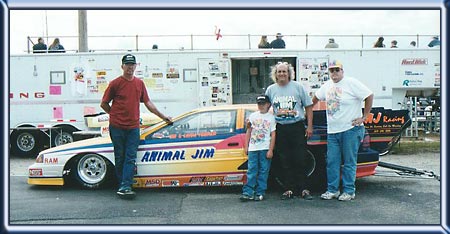 This photo, shot by Roger Edwards of Norwalk Ohio, was taken at Milan Dragway in Michigan at Ford Fest 2000. I had just beaten Johnny Rocca four straight rounds that weekend in a feature match race. The little boy is James Colin Fennell, my grandson, who was 10 years old at the time. The guy in the red shirt is Ford racer Bob Fogelsong who helped out as a crewman. He, his wife and daughter helped me out frequently. The guy at the end was my crew chief Rick Davis. a master machinist, was my full-time crew chief back when I was running the "Big Animal" and the Pinto.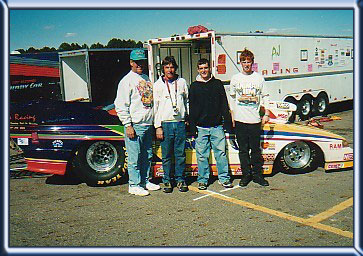 My last hurrah! October 2001 UDRA World Finals at National Trails Columbus, OH. This achievement capped my last Pro Modified National Championship. My crew pictured L-R. Bob Cochron from Columbus, John Wagner, owner of Precision Motors in LaSalle Peru, Illinois, Jeff Mannon, my co-op student from Sparland, Illinois, and Louie Sharp, a friend and employee of John Wagner.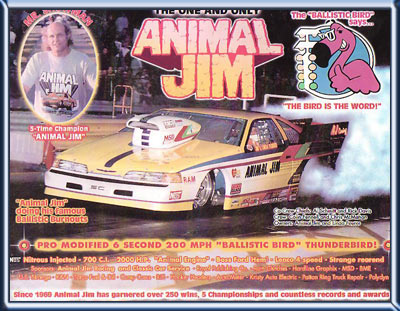 (click for larger image) This poster was provided by Royal Publishing when I ran the "Ballistic Bird" from 1999 to 2001. I won my sixth career championship in the 2001 UDRA points race and decided it was time to park the "Bird" and quit racing while I was on top ... NOT!