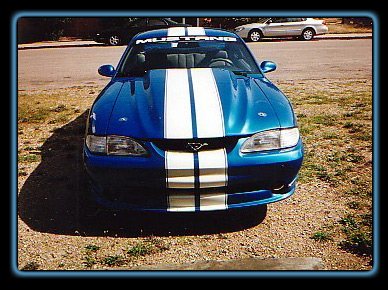 This awesome 1998 Mustang Street Machine belongs to Mitch Merdian from Toluca, IL. In fact, Mitch is part of Animal Jim Racing Enterprises and works for us at our other business Fennell Auto Body outside Lacon, IL. The paint work on this beauty was done by Tim Smith the manager at Fennell Auto Body. This car has won several show car awards.

The engine parts were obtained from Animal Jim Racing and AJ did the block and heads preparation. Then Mitch and his mechanic-able dad, Al Merdian, put the engine together.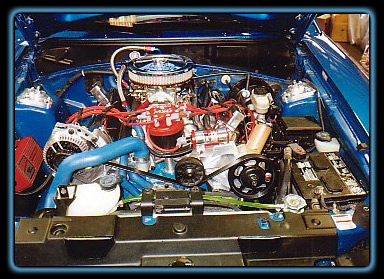 The engine block is an '88 Windsor truck block bored .030 using a premium 409 CI Eagle stroker kit, Comp Cams solid roller cam, lifters, rockers, springs and push rods plus Jomar rocker arm girdles. The valves are timed with a Rollmaster timing set. It also has Canton main girdle, pan and windage tray. On top is Edlebrock Jr. heads and intake with an 800 Holley double pumper. Fuel is supplied by Holley Blue Pump from a 15 gallon Jazz Fuel Cell through Earls braided line. Ignition is MSD Billet distributor and MSD Blaster Coil with MSD 6AL box. Exhaust is routed through full length Hooker ceramic-coated headers and Flow Masters.

The Merdian family also did other modifications like installing a new Strange Engineering 9 inch rear housing, axles, traction loc, 3:70 ring & pinion, disc brakes, shocks, etc. To transmit those 500+ ponies, the Merdians opted for a brand new, T-600 Tremac 5 speed, McCloud clutch & flywheel, SFI Blow Proof, McCloud bellhousing and a D&D drive shaft. All these parts were also purchased from Animal Jim Racing.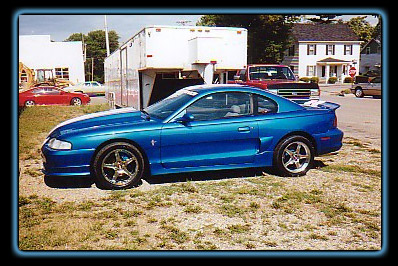 Going back to the body: at Animal Jim's Body Shop - Fennell Autobody, before Tim Smith sprayed the fabulous blue color on Mich's '98 Mustang, the final preparation was done by Mitch, his dad and even Mitch's mom got in on the act.

It is an awesome car! You have to see it in the flesh to appreciate all it's charms.